Back
When should I start taking my kids to the dentist?
2021-09-27T12:03:23
These are the right questions to ask! Most parents are not sure when the best time to visit the dentist is for their kids. Sometimes kids start seeing dentists when there is tooth pain, infection, or a loose tooth – unfortunately there are usually other teeth starting to have issues too.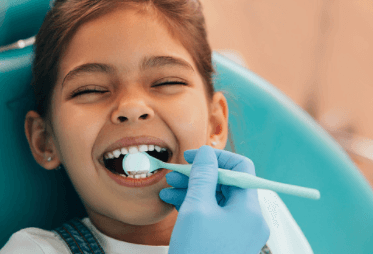 The best time to start going to the dentist for kids is by their first birthday, this is because the first tooth would have started coming in around 7-8 months old. This is supported by the Canadian Dental Association and Arbo Dental Care. http://www.cda-adc.ca/en/oral_health/cfyt/dental_care_children/first_visit.asp
After the first visit it is important to start an annual routine where kids come in at least once a year for a cleaning and check up. As more baby teeth start coming in, it's important to check whether there are cavities, changes in the bite, alignment of teeth or other issues that can be detected and corrected early. Each visit also helps kids get acquainted with our clinic and team members, so that they feel more comfortable and get to know us.
In the event kids need a cavity repaired or a baby tooth removed, they will be a lot more understanding and feel less anxious about the process because they are familiar with us.
The table below is only a suggestion, every child patient is different and may require more frequent dental exams.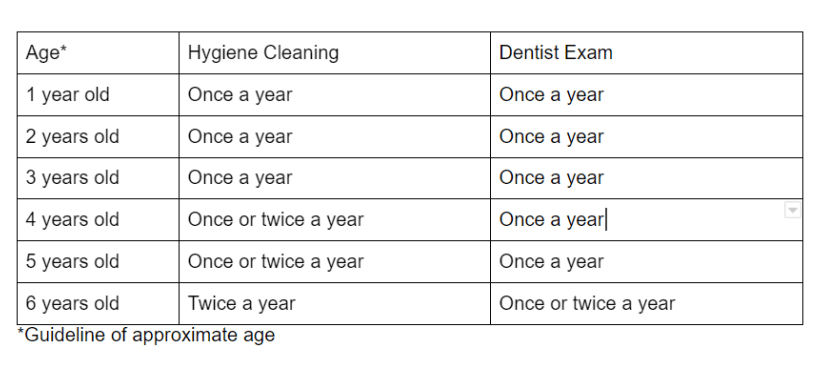 It is never too late to start their first dental visit! We are more than happy to see kids of any age 🙂 Call 905-775-7377 or email info@arbodentalcare.com with subject "Kids Dental Exam"
If you haven't already, you can download Dr. Pham's eBook on Top 3 Questions Parents Have about Kids Teeth here.